Opportunities for the German manufacturing and logistics sector in Haiphong, Northern Vietnam
The Haiphong International Gateway Port - the first deep sea port in Northern Vietnam: a new highway towards China, an international airport and extensive tax incentives for investors are only a few of the recent developments that are transforming Haiphong into a prime investment location in ASEAN, offering vast opportunities for German companies active in manufacturing and logistics.
---
Vietnam, a country with a favourable economic outlook, with steadily increasing GDP (up to 6.7 per cent for 2015) and where inflation is under control (0,6 per cent in 2015), is an upcoming pearl still unknown to many European investors or companies. However, the country offers many advantages for further industrial development like abundance of a low cost labour force with an average age below 30, availability of cheap power and zero to none trade barrier thanks to free trade agreements with more than 50 countries including the EU, ASEAN and China, representing more than 80 per cent of the world GDP and more than 4.6 billion potential customers.
Key benefits that have already been picked up by several companies, mainly Asian investors, are contributing to the nearly USD 230 billion FDI in the country, turning Vietnam into the new manufacturing hub of the world.

The large country with a coastline of 3,260 km has two main economic regions, each with their own economic development given the country's wellknown history. The South, with Vietnam's largest city, Ho Chi Minh City, is more industrialized, but has become a victim of its own success, suffering from congestion and interruption in utilities (power cuts, shortage in water). Northern Vietnam still hosts the political power in Vietnam's second largest city, Hanoi, and although it has a similar population size, the region was lacking a deep water port. Therefore, until recently the majority of investments took place in the South, but with the new investments in infrastructure, stable and cost efficient electricity and extensive tax incentives for investors in the Haiphong area, this is drastically changing.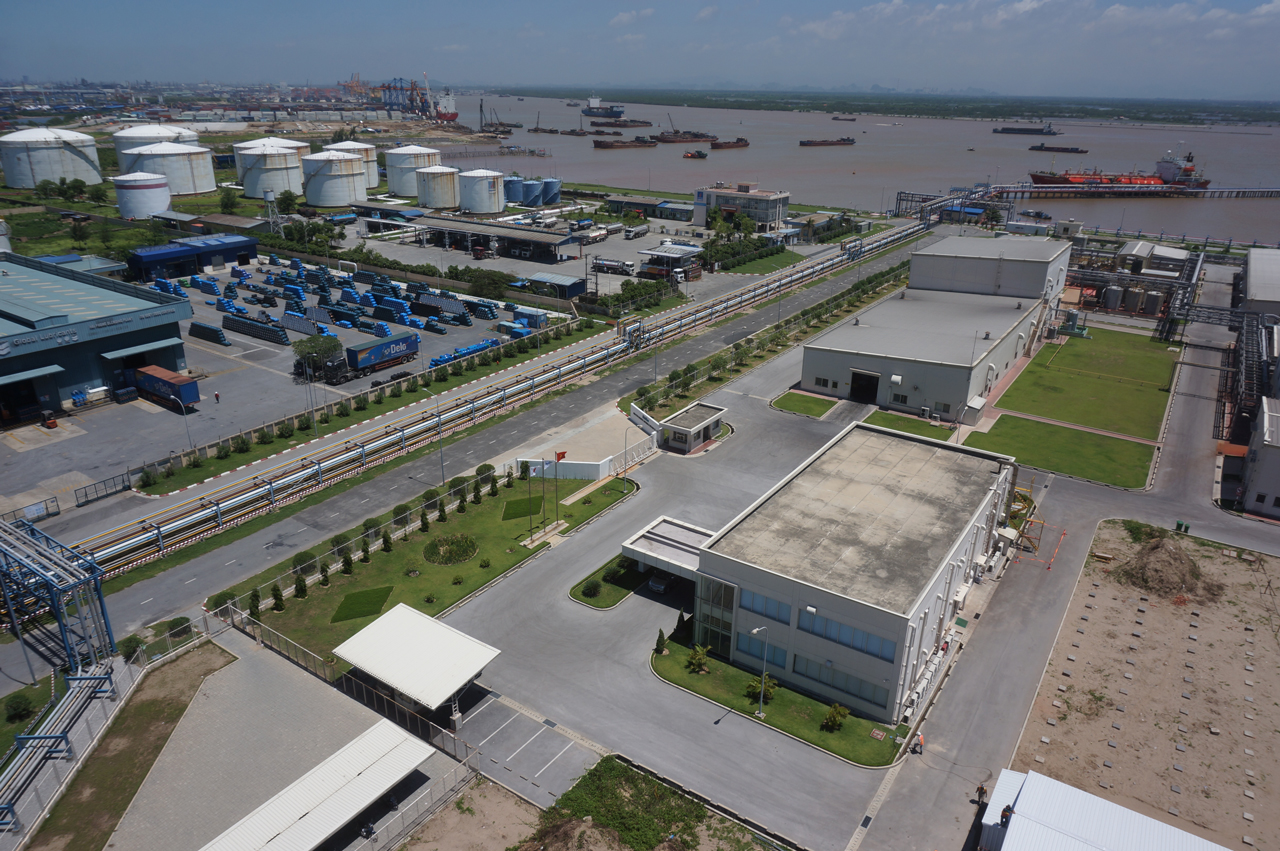 The Haiphong International Gateway Port and related infrastructure
Announced as the "Gateway to North Vietnam", the new deep water port of Haiphong will have upon full completion more than 14 km of quays and will be able to handle more than 95 million tons of cargo per annum. With the new port, large container vessels can make a direct call to Northern Vietnam, avoiding transshipment via Singapore or Hong Kong. This way, direct shipment to the US and Europe is possible, which will shorten lead times and thus increase competitiveness. Compared to the current port of Haiphong with a draft of only 7 m, the new port will have a draft of 14 m (comparable to the Port of Hamburg), allowing vessels up to 100,000 DWT or 13,000 TEU to access the port. This will be a major game changer for the entire region and will boost the development and investments in the surrounding industrial zones. The first two container terminals are foreseen to be operational in 2019 and will be followed by more container, general cargo and bulk terminals.

Connection to China
The new port of Haiphong will be connected to China via a new highway, which is currently under construction. This way, the new port will bring south-western Chinese exports to markets faster and more cheaply, giving foreign businesses further incentive to use Vietnam as a second regional base to offset the cost and risk of investing in China. Conversely, Haiphong offers opportunities to supply the Chinese market, leading to a transshipment and consolidation point for goods coming in and out of China.

Haiphong's industrial zones
Haiphong has become the number one destination for new FDI into the north of the country. According to Vietnam's Foreign Investment Agency, Haiphong has attracted nearly USD 3 billion last year. Accounting for more than 12 per cent of the total FDI into Vietnam, Haiphong is the leading province for attracting new projects, which are developed in one of the industrial zones.

A large portion of this FDI came from investors like Flat Glass, the leading solar manufacturing glass company, who invested more than USD 200 million in the Deep C Industrial Zone, a large industrial zone operated by the Antwerp (Belgium) based company Rent-A-Port. Besides Bridgestone, who set up a large tire production facility, the German company Knauf has invested heavily in Northern Vietnam with a production facility of 6.4 ha in the Deep C Industrial Zone, producing plasterboard for the domestic northern market.

Deep C Industrial Zone
Deep C Industrial Zone started its operation in Vietnam 20 years ago and is currently the leading industrial zone in Haiphong. "Deep C is directly connected via a new bridge to the new port", explains Thierry Aelens, the Hamburg based commercial manager of Deep C. "We offer prime investment land with reliable utilities close to the future Haiphong International Gateway Port and the benefits we can offer to investors are by far the best in Vietnam and one of the most competitive tax incentives packages in ASEAN". Over the last 20 years, more than 65 companies have set up their business, representing more than 500 ha of industrial land and with the construction of the new port, many more will follow.

Deep C offers its clients a European managed investment area, with reliable utilities, such as stable power connection and an iso-certified wastewater treatment facility. For small and medium enterprises, Ready Built Factories and warehouses can be leased upon demand. "Haiphong is indeed an upcoming region in Vietnam, attracting more and more international investments. The area around the new deep sea port offers investment opportunities for a wide range of German companies and industries such as logistics, automotive suppliers, heavy and light industries and renewable energy", states Marko Walde, general manager of the AHK in Vietnam.
➞ Do you want to learn more about opportunities in Northern Vietnam?

Please contact: