Role of Bosch in India's "100 Smart Cities Mission"
Bosch is a leading supplier of technology and services in India in the areas of Mobility Solutions, Industrial Technology, Consumer Goods, as well as Energy and Building Technology. Bosch is introducing this knowledge into India's 100 smart city projects that plans to be completed by 2022.
---
The "100 Smart Cities Mission" initiated by Union Government of India, under Prime Minister Shri Narendra Modi, aims to build 100 smart cities across the country. Launched in June 2015, the Ministry of Urban Development published its Smart Cities Mission & Guidelines. The document comes to the conclusion that there is no single, universally accepted definition of a "smart city". It can mean different things to different people, varying from city to city and country to country. The objective of the mission is to promote cities that provide core infrastructure and provide a decent quality of life for its citizens, a clean and sustainable environment and offer an application for smart solutions. Within this context, cities must develop plans for their urban ecosystem as well as their institutional, physical, social and economic infrastructure.

Central to the ambition of a smart city are people. The focus must be on delivering improvements to cities that benefit citizens, improving the quality of life, health, opportunity as well as enabling them to engage more effectively in their communities. The benefits of smart technology must be real and felt by citizens. For example, providing reliable power and high quality of water and sanitation, efficient transportation services, safer streets, reduced congestion and improved air quality. These are the issues citizens care about and the ultimate driving goals of any smart city.
"... there is no single, universally accepted definition of a "smart city". It can mean different things to different people, varying from city to city and country to country."
The government's focus is correct on developing sustainable and inclusive development in compact areas. Equally important is the ability to create programmes and projects that are replicable across both the city and beyond its boundaries in other aspiring cities. The core infrastructure elements in a smart city are set out below. The typical features of comprehensive development in a smart city are described by the government as:
Promoting mixed land use in area-based developments
Housing and inclusiveness
Creating walkable localities
Preserving and developing open spaces
Promoting a variety of transport options
Making governance citizen-friendly and cost effective
Giving an identity to the city
Applying smart solutions to infrastructure and services in area-based development, in order to make them better cities, are typically regarded as engines for growth and development, with roughly over 63 per cent of India's GDP contributed by 31 per cent of India's population living in urban areas. By 2030 urban areas are expected to house 40 per cent of India's population and contribute 75 per cent to India's GDP. Such a situation demands planning and developing of smart cities and infrastructure.

This is essential to facilitate our economy's growth, while also providing an ecosystem that offers a high quality of life. The relatively low starting rates of urbanization allow India to benefit from recent advances in technology. Advances in electrical power grids, automation and digitalization provide an opportunity for a more intelligent approach to developing our cities. These advances allow us to get more from our existing infrastructure and ensure that we maximize what we get out of "new" infrastructure. The Ministry of Urban Development has so far finalized a list of 60 cities for the smart city implementation initiative in three stages from the list of 100 cities which were selected earlier through a city challenge competition. The remaining 40 cities are expected to be announced in the years 2017-2018.

A smart city vision can be delivered through phases. First, the city needs to determine its aims and objectives. These might be economic, social or safety concerns. Once those core aims have been determined, the city needs to develop social strategies or targets to deliver them. A city might set a target to create 100,000 new jobs, or to improve its air quality by 20 per cent, or deliver 200,000 new affordable homes. Once the city's aims and targets are defined, the city will work towards developing technical strategies such as energy, urban mobility, water and waste management to help the city meet its objectives. It is the integration of these technical strategies that provide real opportunities to deliver the smart 30 per cent. For example, integrating transport and energy strategies to deliver an e-bus rapid transit scheme delivers better access services, reduced energy consumption, better air quality and a cleaner energy mix.

It is also integrated with ICT to provide real time travel information and payment options as well as delivering highly efficient bus stations Smart thinking across multiple technical strategies, can deliver more efficient, coordinated services and help achieve multiple goals.
"Smart thinking across multiple technical strategies, can deliver more efficient, coordinated services and help achieve multiple goals."
A smart city brings together a number of technical disciplines and strategies to deliver smarter solutions. The smart city creates value through this communication and integration between different sectors and silos in a city. The Ministry of Urban Development has identified four different smart city categories. Greenfield: New construction creates the opportunity to fully benefit from smart technologies as an entire new system can be planned, integrated and delivered simultaneously. Greenfield development is also the most economical way to deliver a fully smart city. Parallel delivery allows for sharing of costs.

In some cases, delivery of smart systems could even result in lower demand for infrastructure, which reduces the costs even more. For example, smart buildings with embedded energy generation and storage, could mean that less large-scale power generation is required. Full realization of "smart" requires the integration of key technical design strategies, including: energy, electricity, urban mobility, safety and security, waste and water treatment, and ICT.

Redevelopment: Redevelopment of a city district will create a near Greenfield opportunity as the entire constructed area of the district will be replaced with a new layout and mixed-use development. These projects will have the challenge of working with existing below ground infrastructure and possible energy and water utilization limits. Redevelopment with smarter technologies would allow for more overall development because im-proved efficiency could reduce overall demand for energy and water.

Retrofit: Retrofit is expected to be delivered across large areas (500 acres or more) and will aim to make the existing area more livable through smart technologies. Most of the existing city and infrastructure is expected to remain, thus the specific retrofitted technologies will be expected to truly deliver the extra "smart 30 per cent". The vision expects the retrofit cities to have a high degree of smart technologies, thus delivery will likely require integration of all technical strategies.

Pan-City: Pan-city projects would involve the roll-out of key technologies across an entire city. The aim would be to employ smart technologies across city-wide systems that could bring the smart 30 per cent through targeted investments.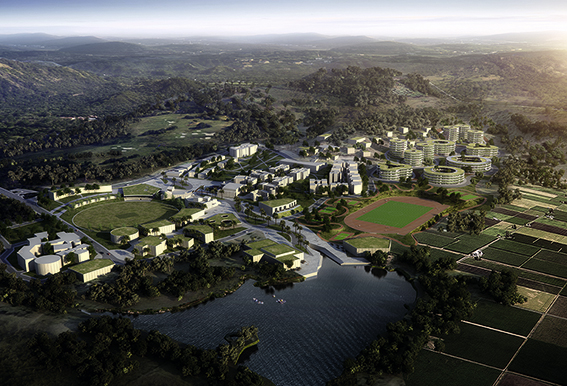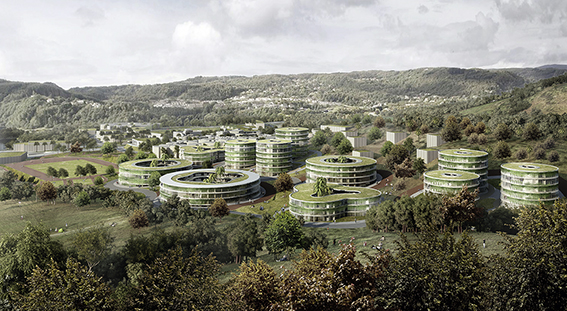 Activities of Bosch India
Smart cities use an integrated network of IT, big data and analytics to tackle problems regarding power and water supply, internet connectivity, e-governance and more. These smart solutions will generate large amounts of data that require an Information and Communication Technology (ICT) platform. Storing and analyzing this data is essential to improving the quality of living and enhance customer experiences. To fulfil this need and facilitate a smooth flow of data, Bosch India provides data storage, analysis, APIs and dashboards for authorities. Bosch India provides four smart solutions as part of the smart city initiative: Intelligent Traffic Management (ITM), Integrated Transport System (ITS), Intelligent Parking Management (IPM) and Citizen Safety and Security (CSS).
"Smart cities use an integrated network of IT, big data and analytics to tackle problems regarding power and water supply, internet connectivity, e-governance and more."
The ITM, an efficient traffic management system, aims to reduce road accidents, increase average traffic speed and reduce environmental pollution. Cameras at traffic light junctions can detect traffic rule violations and generate e-challans using a number plate recognition system. Commuters also receive live updates on road and traffic conditions through Know Your Road (KYR) app provided by Bosch, which uses smart phones to collect information on road quality and speed profiles. Commuters can track public transport buses and check expected times of arrival in the Integrated Transport System (ITS). Additional features such as panic buttons and passenger information systems also form a part of the solution.


This smart solution collectively helps public transport corporations provide a safe, profitable and commuter friendly environment to citizens. With the Intelligent Parking Management (IPM) system in place, citizens can book parking slots and receive real-time information about parking spaces. IPM systems use cameras, electromagnetic sensors and an automatic number plate recognition system to collect information about a parking spot and its user. This smart solution by Bosch India provides a convenient platform for citizens to find a parking spot in the city. The Citizen Safety and Security (CSS) system provides continuous and realtime surveillance of public areas. During an emergency, the radio dispatch system coordinates with police, security and fire departments to tackle the issue strategically.

All the smart solutions i.e. ITM & CSS, ITS and IPM have been deployed by Bosch to prove successful working of these technology solutions in the Indian conditions with all the challenges and peculiarities. Smart cities are also equipped with a smart grid technology system, intelligent garbage disposal systems and a range of sensors. In a smart grid technology system, a smart meter tracks our energy usage and automatically notifies the operator when a problem arises. Garbage disposal systems are enhanced by installing sensors on trash containers that send real-time information about the garbage level to the collection system. Vibration-deformation sensors, atmospheric agent sensors, and temperature and humidity sensors monitor building condition, pollution levels and environmental conditions in a smart city.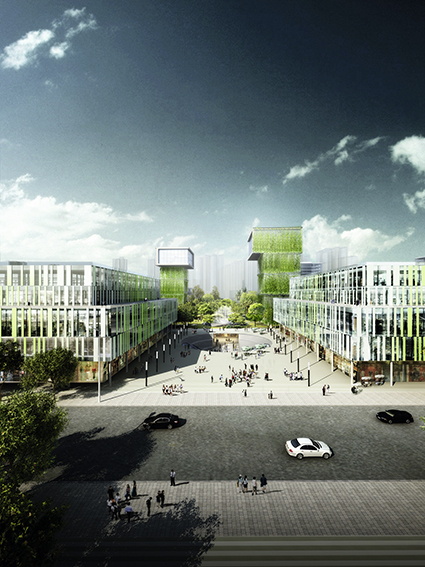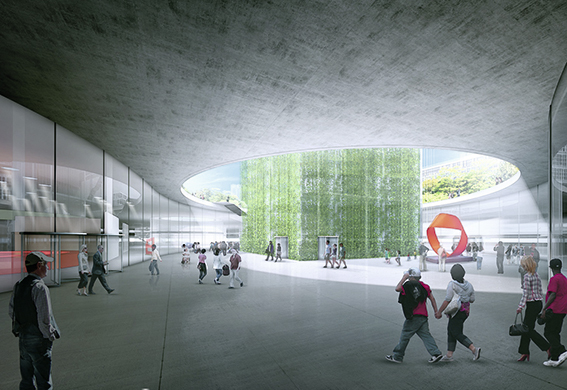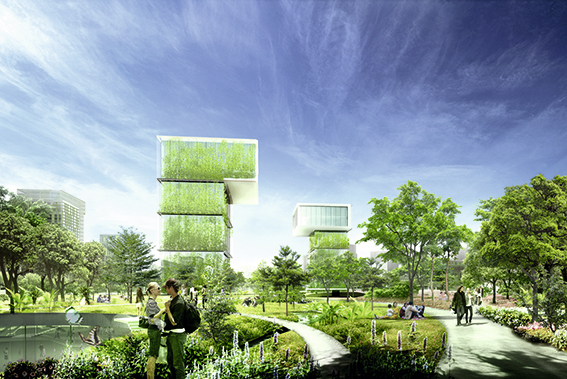 The design by HPP Architekten GmbH reduces the urban density and give free space back to city center of Foshans Guangdong, a city with 10 million inhabitants nearby Hong Kong. It aims to provide an open space for citizens, and allows people to live a recreational life in the urban environment. Public and culture facilities will be built to attract pedestrian flow, commercial facilities can also be further stimulated in this area. The space will not only bring a positive impact on regional development, it will also increase the capability, attraction, and cohesion of the whole city. The space will become an urban area which can develop sustainably.
German activities
The Confederation of Indian Industries (CII) has facilitated formation of a German consortium led by Siemens along with Bosch, KFW, Deutsche Bank, Wabag, Atos and Shapoorji Pallonji to ensure that cities can access cutting edge technology and concepts related to smart cities. It has purposefully weaved in the factor of work-packages, thus offering flexibility to ensure cities and states can determine what is most important to them. The consortium believes this approach not only allows for effective integration but also has flexibility to adapt to city needs and circumstances. Different methodologies for making cities smart can be used for different smart city typologies that are Greenfield, retrofit, redevelopment or pan city. The consortium is committed to a smart city mission, and the same is being demonstrated in the work already done in tailoring a response specific to the smart city mission.
"The focus of this partnership is to tackle existing problems such as housing shortages, poor water and energy supply and overburdened infrastructures, ..."
The one-day conference "100 Smart Cities in India" held in Berlin on June 3, 2016, brought policymakers and representatives from India and Germany to discuss the partnership between the two countries on this project. The Federal Building Ministry of Germany will be providing support to implement the smart city programme in three cities: namely Bhubaneswar, Coimbatore and Kochi. The focus of this partnership is to tackle existing problems such as housing shortages, poor water and energy supply and overburdened infrastructures, and involves German companies to implement smart city concepts in all three cities.

In July 2016, German Ambassador to India Dr Martin Ney, along with a German industry delegation, met with Chief Minister of Orissa Sri Naveen Patnaik, Governor Dr SC Jamir and Housing & Urban Development Minister Sri Pushpendra Singh Deo to support the smart city programme in the capital city Bhubaneswar. The German Ambassador met former Chief Minister of Tamil Nadu, Chief Secretary and Urban Secretary in Chennai to extend the support of German Government in implementing Coimbatore Smart City. Later he also met Mayor and Commissioner of Coimbatore reiterating the same commitment given to the Chief Minister. The Ambassador visited Kochi as well to meet the Minister responsible for Urban Development, Mayor of Kochi, CEO and MD of Cochin Smart Mission Ltd. Dr Ney announced Germany's support to Kochi Smart City implementation and also inaugurated the workshop by the German consortium along with Cochin Smart Mission Ltd.

After the visit of Ambassador Dr Ney, the German consortium has been actively following up with the three cities of Bhubaneshwar, Coimbatore and Kochi. A technical workshop has also been conducted with the stake holders of Bhubaneshwar and Coimbatore.